RUE Episode 50: Distribution and Range
Welcome to the Episode 50 page: Distribution and Range!
It's time to find the distribution and range of your chosen animal.  We model how and where to find this information.  More importantly, we explore what this information means and how it's important to your animal of choice for your research and report.
Watching Episode 50
Watch Episode 50 in its entirety by clicking here.
Viewing in Segments
You can view Episode 50 in segments of about 10 minutes each. See Segment One here.
Language Objectives
Use verbs and verb phrases as connecting phrases to communicate the geographic location of an animal population in terms of range and distribution. Use cardinal directions and region names to describe a location.
Academic Content Objectives
Geography/Map Reading: Use a map to find the location of an animal's range. Life Science: locate and communicate the range of an animal population.
Video Clips used
(Artistic) Bears of Grants Pass
Episode Summary
In this episode, we modeled finding information about an animal's range – also called its distribution.  We shared some words and phases that can be used to connect the notes we made from wildlife cards to other key words to produce sentences.  We used Black bears, grizzly bears, and river otters to demonstrate how to report on an animal's distribution on the physical earth.  We also watched some videos about artistic bear representations and river otters.
Materials Used
These are the slides we used to develop the skills of reporting on an animal's range.  Click the slide to make it bigger.  Use your back arrow to return to this page.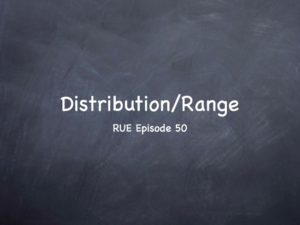 Next Episode
Click here to go to the Episode 51 page.