Reptiles: the animals some people don't want to see. If that's you, you may want to skip this one; however, you'd be missing out on some amazing and beautiful animals. Fear of snakes? Best to skip the first segment (watch by segment below). Love sea turtles? Be sure to see the magnificent footage I have from Video Blocks in Segment 3.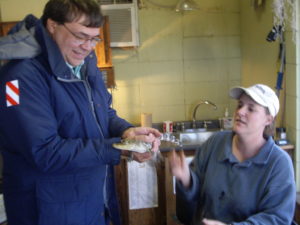 Using a Venn Diagram, we compare and contrast alligator and crocodiles. We teach some of the connecting words to use when communicating how two things are alike and how they're different. This is an important academic skill, as well as a life skill for critical thinking.
Watching Episode 59
Click here to watch Episode 59 ad-free from Archive.org.
Watching in segments
No time for the whole episode? No problem. You can watch by segments, each around 10 minutes long. If you're terrified of snakes, skip the first segment. Can't stand alligators? Skip Segment 2. Love sea turtles?  Be sure to watch Segment 3. Segment 2 has the direct language lesson on Comparing and Contrasting.
Videos used in this Episode
The Video Reptiles can be viewed by clicking here.
For the video about tortoises click here.
Books used in this Episode
The book Alligators and Crocodiles is part of a set from Scholastic books entitled Animal Hunters. It's part of Scholastic's I Can Read About series. The book is no longer in print, but Amazon has some copies for sale.  The ASIN is B0007DWU30. The book is written by Herbert Spenser Zim.
A more recent book entitled Crocodiles and Alligators is written by Seymour Simon. I haven't read this book, but Seymour Simon always does great work, so I recommend it unseen. It will be easier to find than the book referenced above, albeit for more money. The ISBN is 0439148707. Your local bookstore or library is likely to have it.  If not, they can get it with the number I've just noted. I highly recommend that you read one of the two books to help your reading comprehension and make the auditory input of this lesson more comprehensible. You may want to get both books.
Language Objectives
Compare and Contrast two similar animals using connecting words and phrases that join facts in a way that shows how two animals are alike and how they're different (similarities and differences). Locate facts about animals and list them (Reading Comprehension).
Academic Content Objectives
Science: Using information from a book, locate and note facts about two similar animals. Using s Venn Diagram, Organize facts about two similar animals into ways they're and ways they differ. Compare and Contrast two similar animals.
Learning Materials used in  this Episode
Click on a slide to Enlarge it. Use back button to return to current page.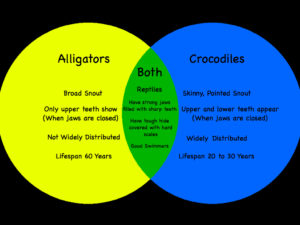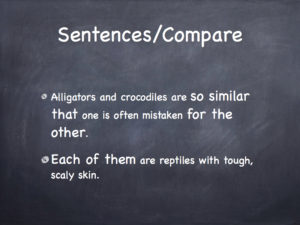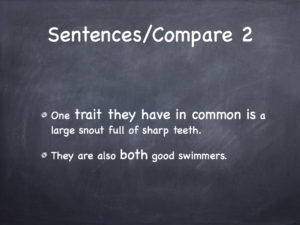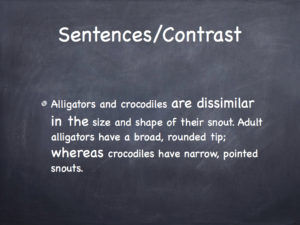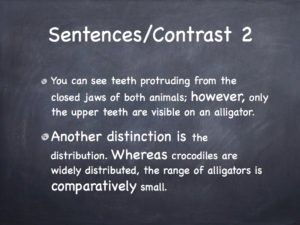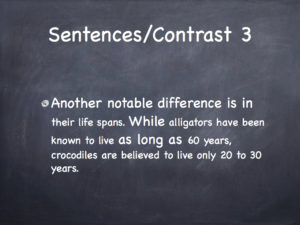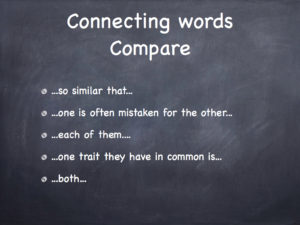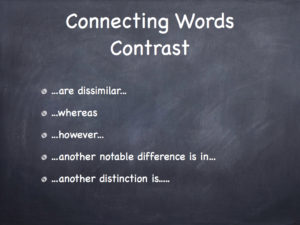 Next Episode
Our study English Language Functions continues, as does our theme of Animals. Click here to visit the Episode 60 Page.