Welcome to Episode 52 of Ramping Up your English; our episode on Biomes.
Our last episode had us explore habitats. Now we look at biomes and the relationship they have to the habitat of an animal. We use bighorn sheep and American Bison as our examples of finding information on biomes and reporting on it.
Viewing Episode 52
To watch Episode 52 without ads, click here.
Viewing Episode 52 by segments
You can watch this episode by segments. Click here to see Segment One.
Video Clips Used in this Episode
To watch the video clip on bighorn sheep, click here.
Click here to watch the video about American Bison.
Acknowledgements
Some of the materials used in this episode were created by others and either reviewed or used under Fair Use copyright laws. The producer wishes to acknowledge and thank the following:
National Geographic – Animals of the High Mountains by Judith E Rinard – a review
ISBN 0870447718
Celebration Press – Animals of the Tundra by Richard Vaughan – a review
(This book appears to be out of Print. Visit CelebrationPress.com  to find other great books.)
Enchanted Learning (enchantedlearning.com) Biomes chart
Flying Frog Publisher – Polar Animals foldout book – a review ISBN 1-87755-636-4
FlyingFrogPublishing.com
Teacher Created Materials – Poster (TeacherCreatedmaterials.com)
National Wildlife Federation – Animal sketches from the unit Home is where the Habitat is
There are tons of great materials at the website www.nwf.org  They offer a great source of animal info.
International Masters Publishers – Wildlife Explorer cards (Wildlife Explorer is a registered trademark)
Visit www.imponline.com
Language Objectives
Use verbs and verb phrases to connect facts about an animal's habitat. Locate facts about an animal's habitat and the biome where such habitat is found in written material. Write facts about an animal's habitat and the biome in which such habitat appears.
Academic Content Objectives
Name the four habitat needs that all animals have. Describe a biome by listing traits such as rainfall, vegetation, temperature, and animal life. Distinguish between the concepts of habitat and biome. Explain how the concepts of habitat and biome relate to each other. Explain how a certain habitat may be found in a number of biomes. Identify habitats that are likely to be found in certain Biomes.
Episode Summary
Using Bighorn Sheep,  Mountain Goats, Dall Sheep, and American Bison as examples, we explore the concept of Biome and how it relates to Habitat. We model finding information about an animal's habitat and using verbs and verb phrases to connect habitat information to compose sentences for reporting on an animal's habitat.
Materials used in Episode 52
Click on slide to enlarge it. Use back arrow to return to this page.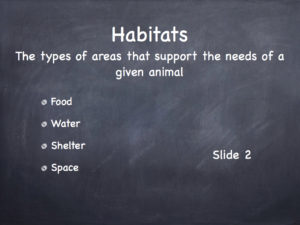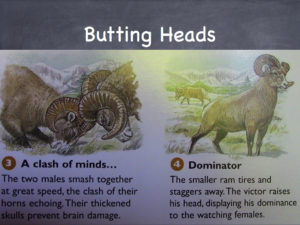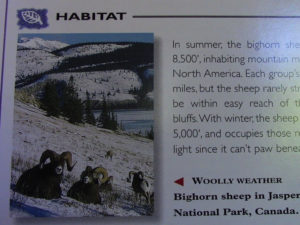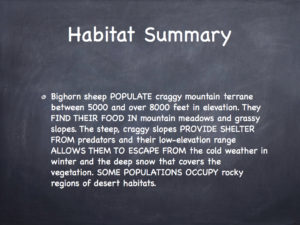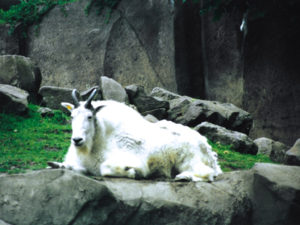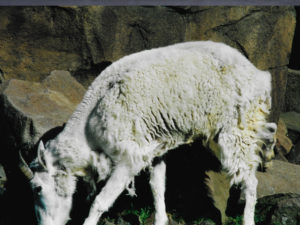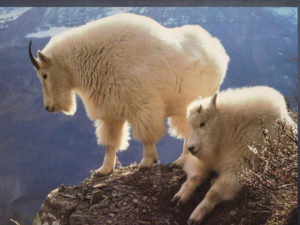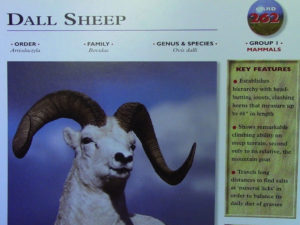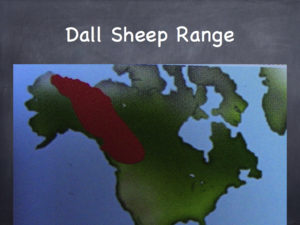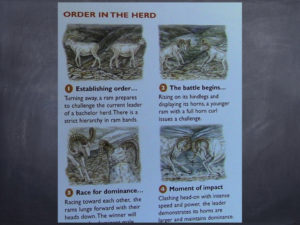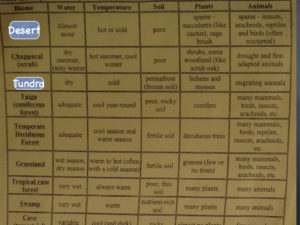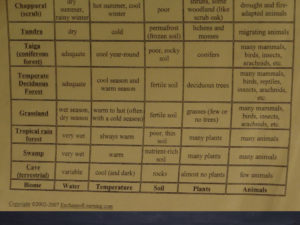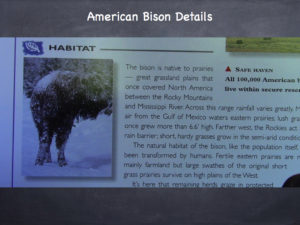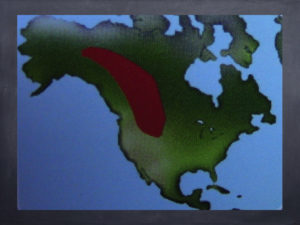 Next Episode
Click here to visit the Episode 53 Page.