RUE Episode 19: Seeking Meaning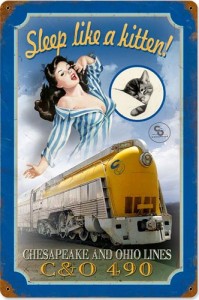 We're seeking meaning in English lyrics as our focus of this episode as we board Amtrak's Cardinal train to Washington, D.C. Click here to watch Episode 19 of Ramping Up your English.
Episode 19 was produced on December 7, 2015 at the Digital Media Center in Ashland, Oregon.  This episode contains 3 music videos that can be found online.  Just follow the links below.
Episode 19 begins with a music video from the internet.  Click on the Ojays to watch the clip.
We feature a ride on Amtrak's Cardinal train, leaving Chicago and headed for Washington, D.C and New York along the Ohio river and into West Virginia.  Click here to watch the clip.
Actually, we didn't play the above clip. We inadvertently played part 2 of that Eastbound Journey, which was intended for Episode 20.  It's too late to change the program, but if you want to see the intended clip – the Cardinal leaving Chicago – click here.
We continue our musical quest for meaning, using this video work of Cat Steven's great song Peace Train. Click here the see the clip.
We have a saying in English that the third times the charm.  Here's the third music video that reinforces our comprehension of the deeper theme shared by these three performing artists.  Click here to see a 1972 concert by Gladys Knight and the Pips.
Songs are often the hardest to comprehend, sometimes even in one's native language.  As you can see in this episode, the theme that the three songs share is easy it discern, but the deeper message may have been more elusive.
Language Objectives:
Using visual, auditory, and literary clues; identify the specific theme contained in three selected music videos.  Explain how trains are a metaphor for an idea in three specific music videos. Use current English reading vocabulary to explain the meanings of words that are displayed as lyrics during a music video.
Academic Content Objectives:
English Literature: Identify the idea of a metaphor wherein trains are the metaphor contained in three selected peace songs. Identify the literary devise of onomatopoeia in songs utilizing that devise. Social Studies: Popular Culture – Explain how music conveys the cultural values of the 60's and 70's in the lyrics of three songs advocating those values. Music: Rhythm – Re-create the rhythm that supports the metaphor of trains in three select videos (Love Train, Peace Train, and Friendship Train).
Literary Elements
This episode introduced the literary element of metaphor.  This is when an event, object, or theme has a meaning that's different from its literal meaning.  The image of a train in these songs stand for a coming-together in peace and love to make this world a better place.  It's an image of hope but also of challenge.  No matter where a train may go, you won't get there unless you climb aboard.  That's especially driven home in the Gladys Knight video.  That video also contained the literary devise of onomatopoeia, where the expression of words create the sound that the word means.
I recommend watching this episode again.  Use the link above the watch Episode 19 of Ramping Up your English.
Homework
Listen to some songs in English. Note the song's title and a short description of what the songs are about. No one-word answers! (Example: People need to learn to love and accept on another – NOT just "Love."
Try this with 3 songs in English from the radio or other source.
Interview
I also promised to share with viewers an interview I found on the internet with Bubba Knight, one of the Pips and Gladys's brother.  Click here to watch the interview. It was not included in the program. I also have another music video with trains as a theme from Gladys Night and the Pips.  Click here to see their performance of "Midnight Train to Georgia." Another soul singer – the Queen of Soul – Aretha Franklin brought President Obama to tears in the video clip you can watch by clicking here.
This episode stretches the listening Comprehension skills of English learners, as there are various levels of the message.  The titles give viewers and listeners the music sets the tone.  Beyond these levels, we must dig into the lyrics as we listen.  This is why I suggest watching this episode more than once.  Apart from improving your listening comprehension, I suggest you dance around to the Ojays and Gladys Knight and the Pips.  That moves more oxygen to the brain, and that's where our language center is located.
Viewing by Segments: Sorry, this episode is not available for viewing by segment.
What do you think Episode 20 will offer. Well, click here and you'll find out.