Improve your English! This is the unit page for Trains and Railroads.
All 32 episodes of our first unit are here.  Simply click below on the episode you want to watch.
Trains and Railroads make up our first theme because it's a topic that has appeal to people of all ages and from many cultures.  While it's not what you'd expect as an academic content, the lessons relate to raising your English proficiency in academic and cognitive areas.  Each episode includes video clips of trains.  Click below to begin your journey toward higher English proficiency, regardless of your age or your language background.  I suggest starting with Episode 1.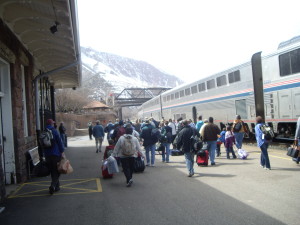 Episode 3 Irregular Past Tense Verbs
Episode 4 Using Past Perfect Tense Verbs
Episode 5 Labor History and Pullman Porters
Episode 9 Sunset Limited Eastbound
Episode 11 Movement verbs and Sunset Limited
Episode 12:Amtrak's Coast Starlight
Episode 13 Large Vocabulary Lists
Episode 14 Coast Starlight Southbound; Schedules
Episode 16 Using Should and Must
Episode 17 Description Skills Describing Nature
Episode 18 Understanding Poetry
Episode 19 Understanding Lyrics
Episode 22 Compare and Contrast
Episode 23 Empire Builder Interview
Episode 25 Reading Literature about Trains
Episode 26 Home Language and Culture
Episode 27 Conversation Groups
Episode 28 Southwest Chief and Rail Museum
Episode 29 Alaska State Reports
Episode 30 Canada Rail and Country Reports
Episode 31 Skunk Self Assessment
END OF THE LINE
That's all for the Trains Unit (Unit One).  Beginning with Episode 33, we'll be in the Animals Unit.  Click here to go to Unit 2 (Animals)